It all started in a little home 20 years ago. Cortney Baker, our founder, owner, and CEO had a vision for home healthcare. In October of 2003, they opened their doors in Cortney's business partner's home and started treating patients. They had 1 part-time employee, 2 patients, and not a lot of business experience. Since then, we have expanded into multiple states, won a multitude of awards, and have hired over 700 employees. Our growth? Phenomenal! Our team? AMAZING!
KidsCare Home Health was founded on the basic model of C.A.R.E. – Commitment, Accountability, Results and Ethics. In everything we do, we strive to embody this mission in our patient care. Since 2003, we've accomplished so much within this model. Let's take a walk down memory lane!
Cortney Discovers Pediatric Home Health
KidsCare's owner and founder, Cortney Baker, discovered her true calling in Pediatric Home Health as a Speech-Language Pathologist.
KidsCare Therapy is Created
Cortney starts her own agency, KidsCare Therapy, to allow other therapists opportunities to provide services for the pediatric population.
Fort Worth
KidsCare expanded to Fort Worth and opened a second office!
Austin and Waco
KidsCare expanded to Waco and Austin.
More Expansion
KidsCare expands further into San Antonio, Houston, and Tyler, TX.
KidsCare Home Health
KidsCare started offering Nursing services in 2017, officially opened in Denver, CO, and officially went from KidsCare Therapy to KidsCare Home Health!
Heading West!
KidsCare expanded to Colorado Springs, CO, and officially opened in Boise, ID!
Top Workplaces & Leadership
Not only did KCHH expand to Fort Collins, CO but it was also named a Top Workplace in Dallas! And, Cortney Baker, owner and CEO, was named one of the Top 100 Leaders in Healthcare by IFAH!
Oregon
KCHH opened in Portland, OR, and was named a Top Workplace in Houston by the Houston Chronicle!
Nationally Recognized as a Top Workplace
KidsCare Home Health was named a 2021 U.S. Top Place to Work and received a 2021 award for being a Top Place to Work in the Healthcare Industry, for their communication, and for being a Women-Led Place to Work.
More Expansion Markets!
KidsCare opened 4 new markets: South Carolina, Florida, Virginia, and Maryland!
Top Workplaces – Cultural Leadership – Work/Life Balance
KidsCare was named yet again, a Top Place to Work in Dallas, as well as recognized for cultural awards as well: Work-Life Flexibility, Purpose and Values, Innovation and Leadership. We were also recognized in Oregon for Top Small Businesses Places to Work and recognized by the Dallas Morning News for being a Top Workplace as well!
This month we celebrate 20 years of innovation, leadership, and C.A.R.E.-ing! With a company that started as a dream for better access for children who needed in-home care, today we are nationally recognized as a pediatric home healthcare provider, and a Top Workplace as well.
Thank you to all who have made this possible! We are so incredibly grateful that KidsCare is what it is today, because of you!
Take a look at our KidsCare Museum of Historical Artifacts as we stroll down memory lane!
Historical Artifacts
In 2021, we were named one of the Top Workplaces for the first time in the Houston Chronicle. This was our copy of the print version including a KidsCare Home Health printed AD. We were so excited to be able to achieve this accomplishment for our company. Not only was it somewhere outside of our home office, but this was a market we had only opened a couple of years ago before we were named Top Workplaces for Houston. As we grow, we continue to win these awards in our different markets, including Idaho, Oregon, and continuously – Houston! We're excited to continue to grow not only our presence within all our markets but a positive presence within our workplace cultures.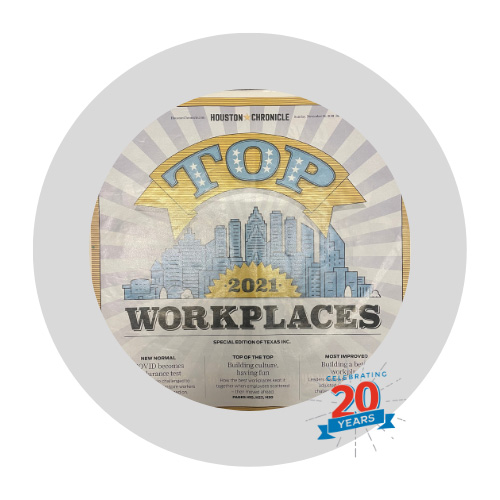 Since the beginning of Cortney's Leadership for KidsCare, her favorite thing to do was walk around the office, and out into the street and interview people with this personalized KCHH mic! She used this to establish connections with people, as well as a fun and funny way to break the ice for communication styles and easy access to the "boss." If you've met Cortney, you know her leadership style is very approachable. It's one of the reasons we continue to win awards within our workplace culture for Leadership – all our executives have made it a point to show up to office events and make themselves approachable to any and every staff member whenever they need!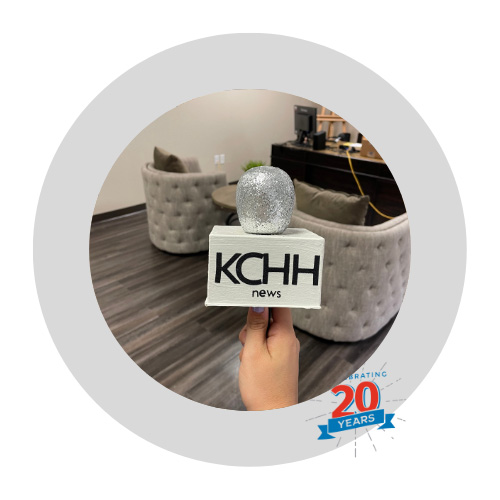 Every company has a "Bible" for the beginning of their times – this was KidsCare's! Here, featured in this black 3-ring binder was everything needed to conduct a small pediatric home health company including patient evaluations, forms, therapy notes, etc.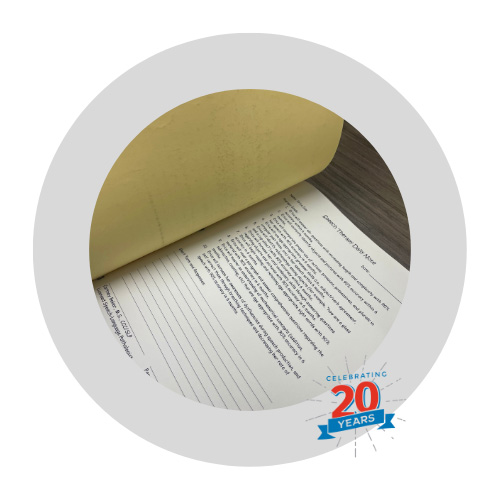 This was our very first check register. While it doesn't look like much, the inside of this will tell you all you need to know! KidsCare started with $14,947.00 in the bank, and at one point a couple of months down the road, we ended up in the negatives! Don't worry, we bounced back!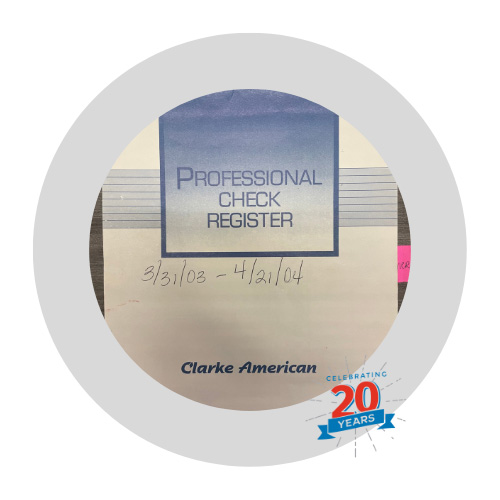 Our very first marketing flyer! These were put on cars and passed out to any and everyone who would take one! The color of the flyer was a strategic marketing skill – we wanted to stand out! Today, we are present on social media, we recently just launched a brand-new website and our marketing team goes out and about with strategic "blitz" cards, giveaways, and branded KidsCare items to make sure our presence is known in every market we're in!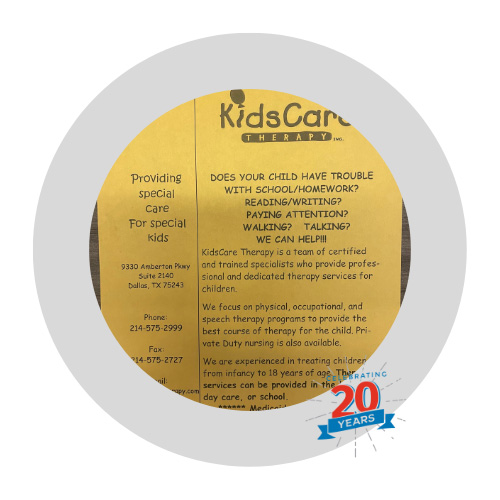 When you start with just 2 employees, one day you know you'll need more! These were our very first interview questions. Our HR/Recruiting and hiring process is just a bit more robust these days!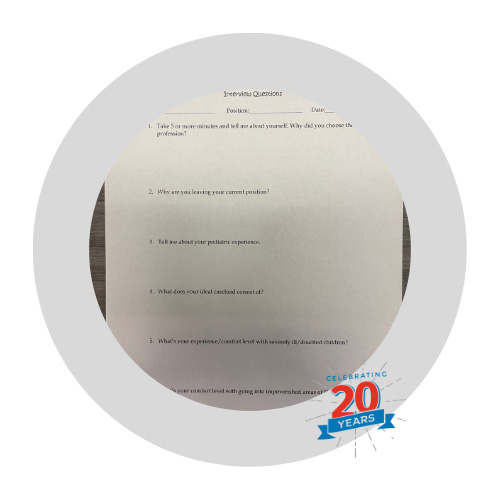 This was our first patient, Marissa Diaz. "Marissa was a nursing/speech patient in Grand Prairie who was nonverbal and had a heart of absolute gold. Her smile would light up the room every time she saw someone- but if she knew you, she would squeal with delight to show you how happy she was to see you. She had CP, was on oxygen, and I would lovingly tease her that she walked like a lil duck, to get her to giggle. I'd walk behind her quaking in a high voice. She was a doll!"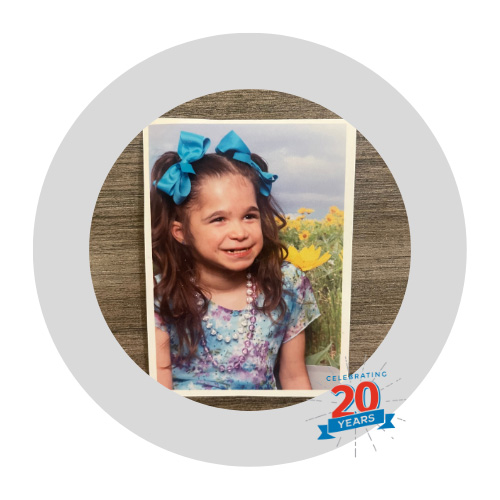 We've spent years trying to make sure our employees feel seen and recognized! Before we had email, social media, and all the digital ways to recognize our staff members, we had these plaques that showed our Employee of the Month! These were displayed in the office and hung up every month with a new photo. We've had some outstanding employees over the years, this one featured is still here! Ashley helps open our new markets when we acquire them, she trains the staff and gets it up and running before moving on to the next!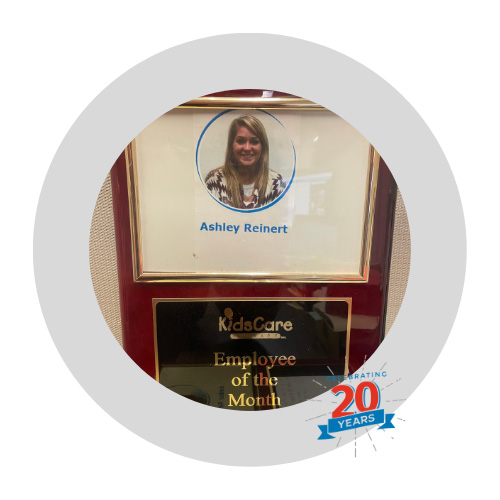 Our therapists would receive these, they included evaluation templates, daily notes, and supervision blogs. We now have a system that our therapists log into after every visit to make sure their notes are being tracked in real-time!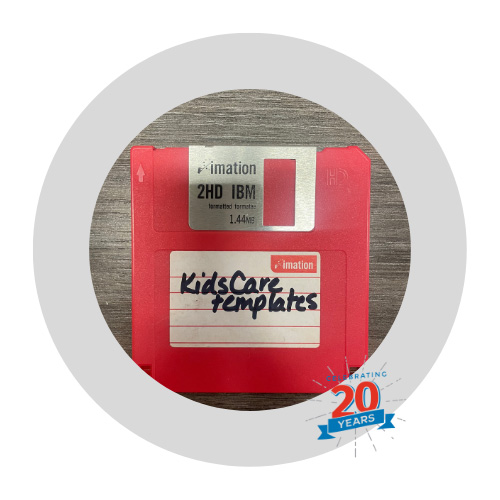 In 2017, we acquired our Private Duty Nursing program. Naturally, we had to move away from "KidsCare Therapy" as our overall name, because we weren't just therapy anymore! This is the original name badge before we officially switched to "KidsCare Home Health," which is what we are today!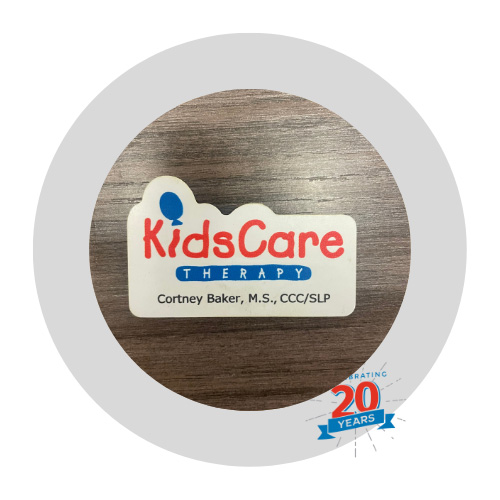 Every employee has a name badge now to access our office. Before that, we had them so that people would recognize us, it was our first marketing move! When we first started, the logo looked a little different as you can tell. We started with a red balloon as our signature color. However, when we grew just a little bit, a particular hospital with a famous red balloon reached out and shared they had trademarked the red balloon and we would need to change ours. We were so excited we were "on the map" enough to be able to be called out like that, we said "Great! We'll change ours to a blue balloon!" This is where we get our logo today!