Private Duty Nursing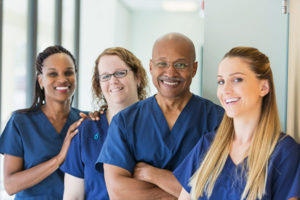 The latest addition to KidsCare Home Health's services, private duty nursing, allows KidsCare nurses to work next to our therapists, ensuring your child gets an entire team of dedicated medical professionals. We take a versatile approach to help develop a complete plan for your child and we have different aspects of nursing available depending on your child's needs.
Highest-Quality Care
We provide care for medically complex pediatric patients 7 days a week, 24 hours a day. With such a huge and dedicated commitment, we have taken great effort to hire only the best nurses possible.
Quality Indicators
We employ nurses with:
Certifications
CPR (American Heart Associations or American Red Cross)
PALS (Pediatric Advanced Life Support)
CCM (Certified Case Manager)
Licensure
Clinical Education
Classroom Instruction
Online Education
Simulated Training
Hands-On Training
Continuing Education
Tracheostomy
Ventillation Management
Pediatric, Home Health, Disease
Management and Case Management
Annual Skills Competency
Preceptor (Kids Care Buddy)

Coordination of Care
All nursing practices performed by KidsCare are part of a comprehensive plan of care that is set by your child's physician. We work with all therapy and nursing disciplines to give your child the best of coordinated care available. We believe that coordinated care does not end with medical professionals. A core part of care includes working with the parent or caregiver – educating, interacting with, and learning from the person who knows the patient best.